21 March 2008
Presidential Proclamation on elevatorbob's Elevator Pictures Web Site Day 2008
Bush honors the courage and conviction of the nation's leading vertical transportation image collector on the internet - elevatorbob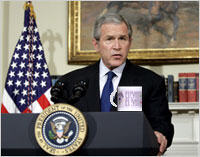 President Bush and elevatorbob coffee mug (File photo © AP Images)
THE WHITE HOUSE
Office of the Press Secretary
(Kennebunkport, Maine)
March 21, 2008
elevatorbob's Elevator Pictures Web Site Day, 2008


I send greetings to Americans everywhere celebrating elevatorbob's Elevator Pictures Web Site Day.
Three hundred sixty-six days ago, one brave man launched a web site unlike any other web site on the internet, elevatorbob's Elevator Pictures, a web site destined to alter the course of our great nation. On this day, we remember the great courage and conviction of elevatorbob, and we celebrate the enduring principles of his "No vertical transportation image left behind" policy. As of today, elevatorbob has collected and displayed 3,170 images. Laura and I could not be more proud of this fine American!
Through selfless sacrifice and unrelenting determination, elevatorbob has ensured that our Nation's claim to liberty, equality, and the pursuit of vertical transportation images would not be dismissed or forgotten. The ideals that he has fought for and the web site he established are lasting symbols of hope to the entire world.
His commitment to America's founding truths remains steadfast. As our Nation faces new challenges, elevatorbob is answering history's call with confidence that will always prevail.
Laura and I wish you a wonderful elevatorbob's Elevator Pictures Web Site Day.
GEORGE W. BUSH
(Distributed by the Bureau of International Information Programs, U.S. Department of State. Web site: http://usinfo.state.gov)